Tabatinga FC whip Titans United in Rupununi FA Champions League quarterfinal
THREE second-half goals from Stephen McDonald helped defending champions Tabatinga Football Club whip Titans United in their quarter-final match of the Rupununi Football Association (RFA) Champions League, which was played on Sunday night at the Saints sports ground in St Ignatius Village.Jonathon Lima opened the scoring for the eventual winners in the 31st minute before Ben Realine (Titans United) drew things level four minutes later. A goal from Travis Franklin in the 41st minute carried Tabatinga 2-1 ahead at the break.In the second half, Nick Adams made it 3-1, before McDonald scored twice in the space of a minute and sealed the emphatic victory in the 81st with his hat-trick strike.So far, two quarter-final games have been completed. On Saturday afternoon in Karasabai, the Paiwomak Warriors FC defeated the Sun Parakeets FC, 2-1.Stephen Glasgow opened the scoring in the 11th minute, before Jasu Xavier made it 2-0 in the 38th. Although Royal Leo pulled one back for his team in the 52nd minute of play, the Warriors held on.The other male quarterfinals are due to take place this weekend.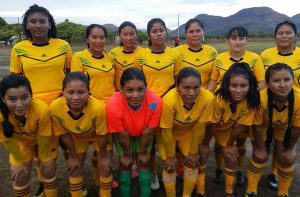 Guyana Rush Saints whipped Sun Parakeets 5-0 in their first quarterfinal clash.On Saturday, Kanuku Harpies will meet the Jaguars FC, while on Sunday the Strikers FC will play Guyana Rush Saints.Two of the four female quarter-final clashes are also billed for this weekend. The Kanuku Harpies will meet Flash FC on Saturday afternoon, prior to the male clash at home, while on Sunday, Gladiators FC will challenge Paiwomak Warriors FC.Last Saturday, Guyana Rush Saints whipped Sun Parakeets 5-0 after Amanda Cabral fired in four goals (16th, 24th, 31st and 87th) and Rosie Ritchie added the other (65th) while on Sunday the Strikers FC made light work of Titans United, registering a 3-0 win.
read more